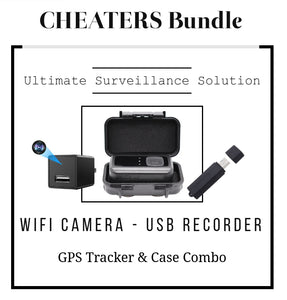 Introducing the "Cheaters Bundle" - Your Ultimate Surveillance Solution!
Discover the ultimate toolkit for discreetly gathering information and ensuring peace of mind with our Cheaters Bundle. Designed for those who need to uncover the truth, this comprehensive set combines three cutting-edge surveillance devices to keep you in control.
Included in the Cheaters Bundle:
USB Audio Recorder:


WiFi Spy Camera

4G GPS Tracker and Case

Whether you're dealing with suspected infidelity, tracking assets, or simply need to keep an eye on your surroundings, the Cheaters Bundle is your all-in-one solution. With its discreet design, advanced features, and protective case, you'll have the tools you need to uncover the truth and protect what matters most.
Service plans for GPS Tracker start at 21.95 a month